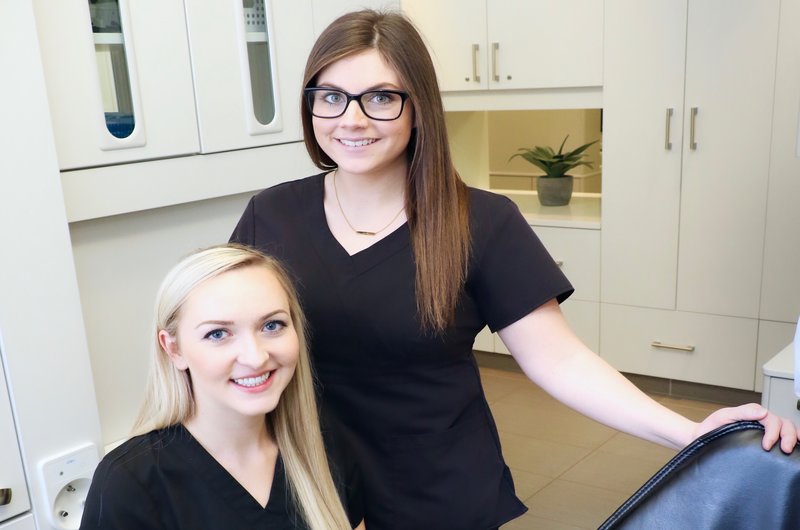 Comprehensive Hygiene
Extensive research has linked periodontal disease with overall systemic health. Our hygiene team uses numerous methods to diagnose treat and prevent periodontal disease. At every dental cleaning appointment
Dental Cleaning Appointment
A typical dental cleaning appointment consists of:
Screening for gingivitis and periodontitis
Polishing with air polish system or traditional prophy paste to remove stain
Scaling with microsonics and hand instruments to remove plaque and calculus
Fluoride treatment and at home oral hygiene instruction
Patients identified to have gingivitis or periodontal disease will be given treatment options based on risk factors and disease severity. Some options for periodontal treatment and maintenance offered at Montrose Dental Care are explained below.
Periodontal Therapy
Periodontal therapy includes all of the following treatment modalities repeated over several visits:
subgingival air polishing for the removal of plaque and biofilm
microsonic instrumentation for the removal of calculus, plaque and biofilm
laser therapy for the removal of bacteria that has penetrated into the tissue causing diseased and inflamed tissue
Laser Therapy
During your dental hygiene visit, our dental hygienists may recommend incorporating the use of lasers into your dental hygiene therapy to help treat gingivitis and/or periodontal disease. Laser therapy is used to help shift the host immune system's response to harmful bacteria and remove diseased, infected tissues of those with periodontal disease to bring the gingival tissue back to a state of health.
The benefits of using lasers in periodontal therapy include:
lowering the intra-oral bacterial count
reducing the risk of oral bacteria spreading systemically
increasing circulation, collagen and fibroblastic activity (cells that build bone and tissue)
aid in re-attaching gingival fibers to reduce gingival pocket depth.
Perio Protect®
Perio Protect® is a set of custom, at-home trays that delivers antimicrobial medication deep into gingival pockets to help reduce bacteria that your floss and toothbrush cannot reach.  Perio Protect® may be recommended to patients who have been diagnosed with gingivitis or periodontal disease. It is intended to be an at-home maintenance or prevention treatment that is an adjunct to your dental hygiene appointment. This system ultimately helps decrease the periodontal pocket bacterial load thereby decreasing inflammatory response, bleeding, and further tissue destruction while facilitating healing.
Hyperbiotics-The chewable dental probiotic
We are happy to supply Hyperbiotics PRO-Dental; a chewable probiotic that crowds out harmful bacteria. PRO-Dental probiotics promote oral, ear, nose, throat and sinus health. Probiotics may be recommended by the hygiene team as part of an overall periodontal health strategy or for re-population of good oral bacteria after periodontal therapy treatments.
Bacteria and Genetic Testing with OralDNA Labs
Montrose Dental Care may recommend a saliva collection and OralDNA lab test to identify the presence of harmful bacteria that cause periodontal disease. OralDNA screens for 11 harmful oral bacteria, all of which have implications to our periodontal and systemic health. The oral bacteria being tested for can be linked to Alzheimer's disease, cardiovascular disease, respiratory disease, osteoporosis, arthritis, pancreatic cancer, poor pregnancy outcomes and an increase in HbA1c levels in diabetics.
OralDNA labs can also be asked to identify genetic markers from the same saliva sample to establish genetic risk for periodontal disease. These test help guide periodontal therapy based on the presence of harmful oral bacteria and genetic risk.